TELESALUD:
UNA ALTERNATIVA EN EL CUIDADO DE LA SALUD DEL ADULTO MAYOR
Palabras clave:
telemedicina, telecuidado, adulto mayor, promoción de salud
Resumen
En los últimos años, con el aumento de la población adulta mayor y la aparición de las herramientas tecnológicas se ha facilitado la interacción entre el paciente y los proveedores de cuidados de salud, movimiento que ha crecido con el advenimiento de la pandemia ocasionada por la COVID-19. El objetivo de esta investigación es reflexionar en el uso de la telesalud en el abordaje del adulto mayor. Para ello, utilizamos aproximadamente 30 estudios que refieren datos relevantes acerca de algunas herramientas tecnológicas utilizadas en el cuidado del adulto mayor. En el mundo se han realizado estudios para evaluar el efecto de la telemedicina en la promoción de la salud, sobre todo enfocado en los adultos mayores, observando que, a pesar de ver un aumento en las consultas médicas virtuales, aún existe una brecha tecnológica marcada sobre todo en los adultos mayores de América Latina. Otros datos importantes del uso de la telemedicina o telecuidado radican en llegar a aquellos pacientes que por algún motivo no pueden asistir a un centro de atención reduciendo costos de movilidad, tiempo, alimentación tanto del paciente como de su acompañante. Las videoconferencias, mensajes de texto a través de teléfonos inteligentes, tablets o computadoras son las principales herramientas utilizadas por los pacientes para establecer comunicación, permitiendo así, que el personal sanitario pueda ver los resultados de exámenes o pruebas solicitadas previamente. Por lo anterior expuesto, concluimos que la telesalud ha marcado una nueva alternativa en el cuidado de la salud del adulto mayor. La telesalud es una opción significativa para la atención a distancia de adultos mayores y debería ser implementada como parte de los programas de atención y promoción de la salud de los pacientes que viven en áreas rurales de nuestro país.
Descargas
Los datos de descargas todavía no están disponibles.
Citas
Martínez-Alcalá, C. I., Pliego-Pastrana, P., & Rosales-Lagarde, A. (2015). Análisis y perspectivas del uso de las TIC en el Adulto Mayor. In Memorias del Congreso Nacional de Ingeniería Biomédica (Vol. 2, No. 1, pp. 234-237).
Plaza, E., & Durán, H.(2020). Uso de tecnologías de la información y comunicación en servicios y cuidados de atención primaria de salud para adultos mayores en latino américa.
Soto, I. P., & Díaz, M. G. A. (2001). La teleconferencia y la educación en salud para personas adultas mayores. Revista Costarricense de Trabajo Social, (12).
Palacios León, I., Vivas Vaca, C., Paz y Miño, M., & Trueba, G. (2021). Programa de Telesalud para pacientes crónicos de sectores rurales de Pichincha: prevención y promoción en salud en época de pandemia por Covid-19. Ensayo. Esferas, 2(1), 74 - 105. https://doi.org/10.18272/esferas.v2i.1975
Quimbaya, É. P., Osorio, B. M., & ranada Aguirre, E. G. (2018). APLICACIONES MÓVILES PARA EL MONITOREO DE LAS ENFERMEDADES CRÓNICAS NO TRANSMISIBLES EN ADULTOS PARTICIPANTES DE UNA ACTIVIDAD ACADÉMICA EN LA UNIVERSIDAD DE CALDAS. Expomotricidad.
Batsis, J. A., DiMilia, P. R., Seo, L. M., Fortuna, K. L., Kennedy, M. A., Blunt, H. B., Bagley, P. J., Brooks, J., Brooks, E., Kim, S. Y., Masutani, R. K., Bruce, M. L., & Bartels, S. J. (2019). Effectiveness of Ambulatory Telemedicine Care in Older Adults: A Systematic Review. Journal of the American Geriatrics Society, 67(8), 1737–1749. https://doi.org/10.1111/jgs.15959
Narasimha, S., Madathil, K. C., Agnisarman, S., Rogers, H., Welch, B., Ashok, A., Nair, A., & McElligott, J. (2017). Designing Telemedicine Systems for Geriatric Patients: A Review of the Usability Studies. Telemedicine journal and e-health : the official journal of the American Telemedicine Association, 23(6), 459–472. https://doi.org/10.1089/tmj.2016.0178
Shah, M. N., Gillespie, S. M., Wood, N., Wasserman, E. B., Nelson, D. L., Dozier, A., & McConnochie, K. M. (2013). High-intensity telemedicine-enhanced acute care for older adults: an innovative healthcare delivery model. Journal of the American Geriatrics Society, 61(11), 2000–2007. https://doi.org/10.1111/jgs.12523
Liu, L., Stroulia, E., Nikolaidis, I., Miguel-Cruz, A., & Rios Rincon, A. (2016). Smart homes and home health monitoring technologies for older adults: A systematic review. International journal of medical informatics, 91, 44–59. https://doi.org/10.1016/j.ijmedinf.2016.04.007
Shah, M. N., Wasserman, E. B., Gillespie, S. M., Wood, N. E., Wang, H., Noyes, K., Nelson, D., Dozier, A., & McConnochie, K. M. (2015). High-Intensity Telemedicine Decreases Emergency Department Use for Ambulatory Care Sensitive Conditions by Older Adult Senior Living Community Residents. Journal of the American Medical Directors Association, 16(12), 1077–1081. https://doi.org/10.1016/j.jamda.2015.07.009
Yank, Verónica (2014). Primary Care eHealth Intervention for Improved, Outcomes in Chronic Kidney Disease. ClinicalTrials.gov Identifier: NCT 02097550.
Peters, Anne (2018). Telemedicine Monitoring of Nocturnal Incidents of Of Treatment-Requiring Hypoglycemia in Older Adults with Type 1 Diabetes Miletus-A Feasibility Study. ClinicalTrials.gov Identifier: NCT 043228896.
Cannell, Michael., Hernández-Tejada, Melba (2021). Management of Depression and Social Isolation in Older Adults with Dementia With Home-based Telehealth Delivered Behavioral Activation + Caregiver Facilitation. ClinicalTrials.gov Identifier: NCT04915040.
Brokmann, Jörg., (2021). Optimized Acute Care for Geriatric Patients Using
An Intersectoral Telemedical Cooperation Network – Around the Clock – Technical Performance. ClinicalTrials.gov Identifier: NCT04873973.
Matz, Oliver., (2019). Use of Telemedicine for Geriatric Emergency
Patients. ClinicalTrials.gov Identifier: NCT04148027.
Sourial, Nadia., (2022). ESOGER PC: Implementation of a Socio-geriatric Telemedicine Tool in Primary Care to Support Needs Assessment for Older Adults. ClinicalTrials.gov Identifier: NCT05102890.
Manafó E, Wong S., (2013) Promoting eHealth literacy in older adults: key Informant perspectives. Canadian journal of Dietitians, 74 (1); 37-41.
Weaver, Frances M., (2013) Developing a Patient Inventory to Facilitate. Patient-Centered Care Delivery.ClinicalsTrials.gov Identifier:
NCT01843803.
National Institute for Health and Care Excellence (NICE) (2020) Care and Support of people growing older with learning disabilities (NG96)
Chun, Timothy., (2019) Enhancing Executive Function and Self-regulation Success Through the Promotion of Brain Health Behaviors: A Telehealth Pilot Study for Veterans with Chronic Multi-symptom Illness.
ClinicalTrials.gov Identifier: NCT04164667.
Sakakibara, Brodie., (2020) A Student-delivered Community Outreach telehealth Program for Covid Education and Health Promotion (COACH). ClinicalsTrials.gov Identifier: NCT04492527.
Rimmer, James., (2020) A Blended Residential/Telehealth Lifestyle Intervention to improve Cardiovascular Health and Manage Pain in Adults With Spinal Cord Injury. CliniclTrials.gov Identifier: NCT03207737.
Rodríguez, Roberto., Dias, Luciana., Warken, Fernanda., Deivson, Daniel., Costa De Souza, Marcio., & Padula, Rosimeire., ( 2021). Does tutors support contribute to a telehealth program that aims to Promote the quality of life of office workers? A cluster randomized Controlled trial. Contemporary Clinical Trials Communications, 2021, Vol. 21, art.100722.
Zhang, Jing., Yang, Minghui., Ge, Yufeng., Ivers, Rebecca., Webster, Ruth., & Tian, Maoyi. The role of digital health for post-surgery care of Older patients with hip fracture: A scoping review. International Journal Of Medical Informatics, 2022-04-01, Vol. 160, Art. 104709.
Kelly, Laura., Jenkinson, Crispin., & Ziebland, Sue. (2013). Measuring the
Effects of online health information for patients: Item generation for an e-health impact questionnaire. Patient Education and Counseling, 2013-12-01, Vol 93, 3, 433-438.
Walmsley Al, Serwe KM. (2021) The effectiveness of telehealth for a Caregiver wellness program. Journal of telemedicine and telecare ClinicalTrials.gov identifier: NCT03800238.
Gabarrón, Elia., & Fernández-Luque, Luis. (2012) eSalud y vídeos online Para promoción de la salud. Gaceta sanitaria Vol.26,3, Pag. 197-200.
Melchiorre, Maria G., Papa, Roberta., Rijken, Mieke., Ginneken, Ewout., Hujala, Anneli., & Barbabella, Francesco. (2018) eHealth in integrated care Programs for people with multimorbidity in Europe: Insights from the ICARE 4EU project. Health Policy, Vol. 122, 1, 53-63.
Virtanen, Lotta., Kaihlanen, Anu-Marja., Laukka, Elina., Gluschkoff, Kia., & Heponiemi, Tarja. (2021). Behavior change techniques to promote Healthcare professionals' eHealth competency: A systematic review of Interventions. International Journal of Medical Informatics, Vol. 149, art 104432.
Leibowitz, Amy., & Morris, Melanie. (2021). Addiction Telemedicine Consultation in Primary Care: Increasing Access to Pharmacotherapy and Specialty Treatment for Alcohol Problems Via Telehealth. ClinicalTrials.gov Identifier: NCT05252221.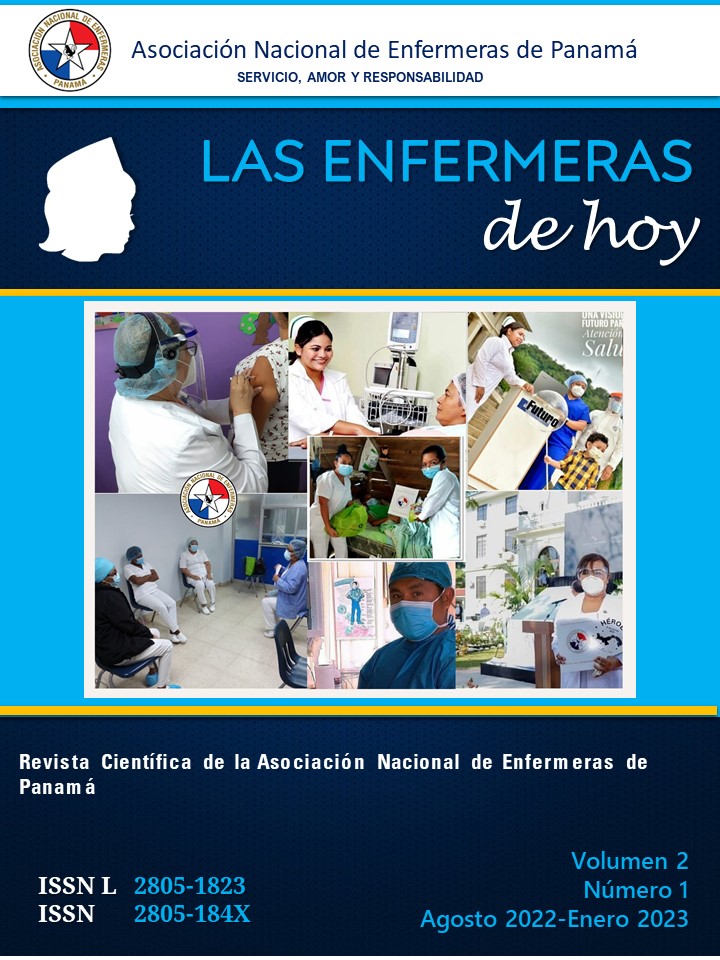 Descargas
Cómo citar
Salazar, A., Cummings, G. ., Latines, I., Hayot, Z., & Rodríguez, L. (2022). TELESALUD: : UNA ALTERNATIVA EN EL CUIDADO DE LA SALUD DEL ADULTO MAYOR. Las Enfermeras De Hoy, 2(1), 40–50. Recuperado a partir de http://revistas.anep.org.pa/index.php/edh/article/view/56
Sección
Artículos de revisión
Licencia
Esta obra está bajo una licencia internacional Creative Commons Atribución-NoComercial-CompartirIgual 4.0.